MYSTIC BLUE EYES GF progeny



GOLD PREMIUM Westfalen NA / RPSI filly "MW RILEY Z" with her new owner!



2016 GOLD PREMIUM Westfalen NA / RPSI filly "MW RILEY Z" by Top Eventing Warmblood sire RICARDO Z out of Thoroughbred broodmare "BOBSTONE" (Westfalen NA / RPSI main mare book 1)



Our beloved family horse, POCO. photo by Sam English



Our beloved stallion, MYSTIC BLUE EYES GF. photo by Sam English



Thoroughbred mare "Bobstone" with her filly "MW Riley Z", by top warmblood sire "Ricardo Z".
This filly and dam have been inspected and registered with the Westfalen NA / RPSI.
Bobstone was entered into the main mare book 1, with comments on her natural rhythm, and good quality, uphill canter. She is in foal for a Mystic Blue Eyes GF foal in 2017.
MW Riley Z scored an impressive Gold Premium, with comments on great balance, drive, rhythm, development and gaits.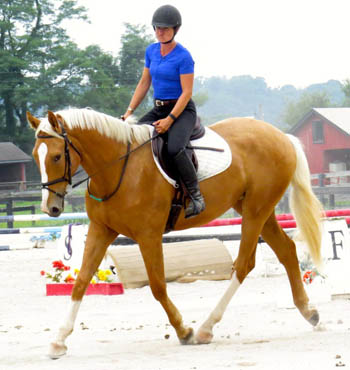 MW Harlan, by our stallion Mystic Blue Eyes GF, has been sold locally and will be pointed to a career in dressage and eventing, as well as serving in the very important role of "family horse"! Photos and more about MW Harlan >>





Westfalen NA / RPSI @ Moserwood, 2014 - Moserwood hosted the Rheinland Pfalz-Saar International inspections, August 2014. Site champion mare was Kim Smith's powerful 17 h. bay thoroughbred mare "Alberta's Book xx" (Albert the Great x Oka No Book - Mari's Book). She earned premium status with her solid conformation, sporty type and elastic, uphill movement, and qualified for Praedikat Sport with her impressive race record over a long career and classic distances.





MW Sunshine, by our stallion Mystic Blue Eyes GF, has been sold and is heading to Cuernavaca, Mexico. She was inspected, purchased and will be exported by her new owner Juan to live in an equestrian resort headed by a British Olympic instructor. We wish them all the best in their future endeavors and we look forward to watching her progress under such capable care and the expert eye and intuition of her new owner.

Juan says he is most impressed with her excellent mind plus stunning good looks and chrome. It's time for you to rest and grow Sunshine, then make us proud by taking care of your new family for many years to come! Photos and more about MW Sunshine >>


Moserwood Farms offers a first class boarding facility with broodmare and foal care, training for young horses and retired racehorses, lay-ups, shipping, and auction representation.
Jog - thoroughbred stallion, stood at Moserwood producing both racing and show prospects, and acted as thoroughbred ambassador for the Kentucky Derby Museum, before being placed with a private breeder (VA).
This is thoroughbred mare "Bonus Paid", comfortably in foal to Moserwood stallion, Mystic Blue Eyes GF, due 2015. She was rated a premium main book mare on Westfalen NA / RPSI inspection, with judges praising her powerful, uphill and swingy trot. Her resulting foal will most likely be a palomino, or it may also inherit the gray gene; either way should be a grand foal.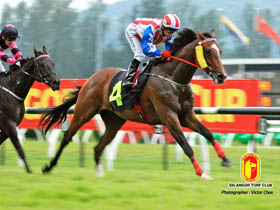 This 2009 colt by Stormin Fever was purchased in 2010 by agent Kim Smith for Albert Ow Kee Foo, and he was broke to ride at Moserwood Farm before shipping overseas. He is now a winner named "America Seal" and is racing in stakes company in Malaysia.

America Seal WON his country's 4 year old Championship, November 30th, 2013 at Selangor Turf Club in Malaysia. Congratulations to all his connections!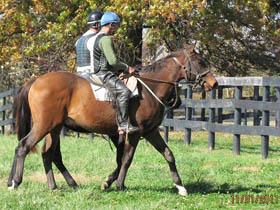 Little brother of Breeders Cup winner HANSEN, is pictured here being broke to ride at Moserwood, fall 2011. We wish owner Dr. Kendall Hansen all the best in the future with this special sibling. We'd like to congratulate 2011 Breeders Cup Juvenile winner HANSEN and his connections, Dr. Hansen and Skychai Racing, on such a nice win! Hansen had expert guidance along the way from Annice Johnson at Land O Goshen Farm, and Tom Drury at Drury Racing Stables - congratulations to them as well!


Royal Start, we made the breeding arrangements for her dam, we foaled her, raised her, syndicated her in a partnership, broke her to ride, and supervised her initial training. All this hard work paid off when she made her first start in a race on February 20, 2011, finishing a game 4th just about a length behind Breeder's Cup Classic winner Blame's full sister and a $200,000+ sale graduate.
photo by Ed Van Meter, click to enlarge


Royal Start, WINNER at Fair Grounds, January 2012!


Regalo Del Oro, is a very rare Jockey Club registered palomino thoroughbred - bred, raised and broke to ride by the professional staff at Moserwood.


Rivers Legacy, gelding by Private Terms, was born, raised and broke at Moserwood Farm. He had 2 wins a row in January and February 2010, and a win in September 2010 in his first start after some time off at Moserwood. Owned by Rogue Stable, bred by Lenora & Gary Ferraro in Kentucky.



2006 thoroughbred filly Sheikhy Situation , by Evansville Slew - Sheikh'nnotstirred by Sheikh Albadou (GB), was broke at Moserwood had her first win for owners Jeff Evans and Dr. Rick Costelle, and trainer Thomas Drury, Jr., November 1, 2008.


2008 thoroughbred filly Ten Way Sheikh, broke at Moserwood, and finished 2nd in her first start, October 15th, 2010. See the results chart >>


2008 thoroughbred filly Play Us Out, broke at Moserwood, and finished 3rd in her first start 75 days later, October 15th, 2010. See the results chart >>


Dr McGee, won his first start back for trainer Thomas Drury, Jr. after a year lay-up at Moserwood
A few other successful Moserwood lay-ups include Raising Martin, owned by Tom and George Schifano, Bright Sea, one of sire Bright Launch's leading earners, and Kristy Beethoven, filly by Kris S. out of Elissa Beethoven (GB), owned by Jim Spence. Also My Queen Burns, filly for owner / trainer Jerry Quinn. Holiday Peak, colt by Peaks and Valleys, owned by Theresa Horky & Keith Shelansky, Canyon's Prospect, and Brittney's Partner.
Mister Dickens, owned by Mohammed Al Jamali, trained by Aditiyan Selvaratnam, won in Dubai, United Arab Emirates, at Nad Al Sheba Race Course on 1/22/04. The Greenline Cup Handicap 6 furlongs in 1:12.60.
Purchased in the US as a yearling, Mister Dickens, his half sister Pride of Baghdad (also a multiple winner in the UAE) and their dam Hidle by Unbridled, were all sold by Moserwood Farm, Agent.